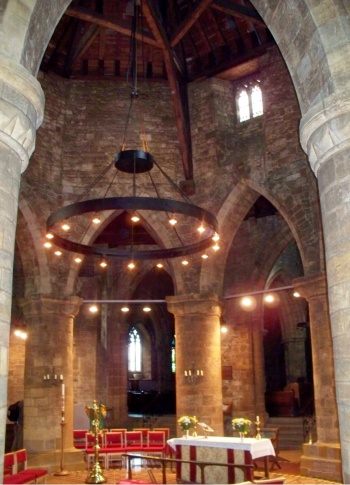 The beautiful round church of the Holy Sepulchre. (image credit)
On  Sunday 12th October, two days before the 850th anniversary of Archbishop Becket's escape from the castle through the North Gate in 1164, the Holy Sepulchre Church will be hosting a series of events in honour of the Saint.
The church dates to 1100AD, and is one of only four medieval round churches in use in England. The West End was built by Simon de Senlis II, who testified that two of his servants had received healing as a result of prayers to the martyred Archbishop, and whose family built Northampton Castle.
At 11.00 a.m., the Eucharist service will be held in the Becket Aisle.
After the Service the congregation will process to Regent Square, the site of the North Gate for the unveiling of a commemorative plaque by the Leader of Northampton Borough Council.
Parish Lunch.
At 2.30 p.m., Professor Nicholas Vincent, Medieval  History Professor at the University of East Anglia, and author of books on Medieval History has agreed to give a talk on "Becket, Henry II and Northampton".  No tickets or booking required, but a retiring collection will be taken.
At 3.40 p.m. Choral Evensong sung by the Choir of St. Peter's, Weston Favell.
Suggested Plaque Wording
On the site of this Square stood the Medieval North Gate
through which Archbishop Thomas Becket fled
during the early hours of 14th October 1164
to escape the anger of  King Henry II
in the controversy over the supremacy of the Church courts.