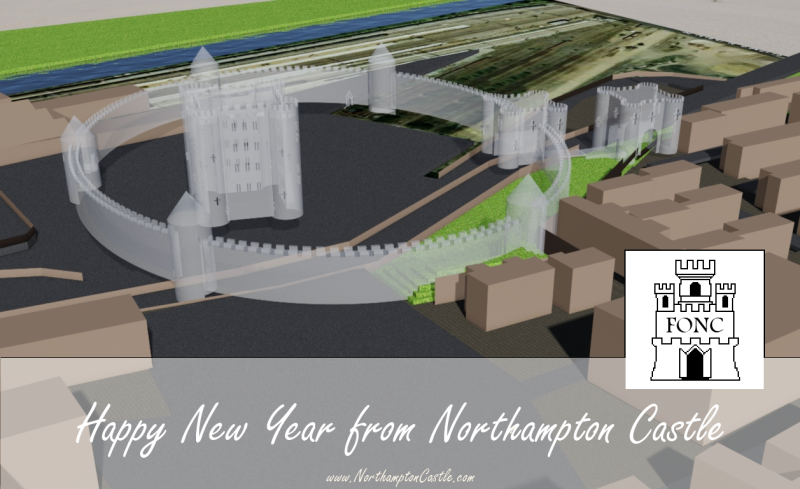 We have had an amazing 2012, with a growing base of volunteer members, over 20,000 pages viewed on our website, and serious progress on our Heritage Gateway proposal, culminating with the council offering a contract worth £15,000 for a feasibility study & options appraisal, with FONC listed as a key stakeholder.
Here's a quick review of some of the highlights of FONC's 2012.

Towards the beginning of 2012 our focus was on finalising the medieval square/heritage gateway proposal, which has since been hugely important for the group.
In April, we successfully exhibited some information about the castle in the People's Gallery in Northampton Museum.
The Castle Revels held in May attracted over 300 visitors and helped spread awareness of the castle.
By July, the three-dimensional virtual model of the castle was ready for the website, and has since been viewed on youtube over 1,100 times. This model provided key visual imagery for us to use in greetings cards, on social networking sites and has really helped to contextualise the castle for many Northamptonians.
Our "Small Big Dig" at Spring Lane School in July attracted the local press, the Mayor and nearly 100 local volunteers helping with digging, sifting and recording the finds.
July was also the last time the Friends met in the Old Black Lion, finding a welcome new home from June at Castle Hill United Reformed Church.
FONC made a strong debut at the Heritage Open Days during September, presenting information in St Peter's Church and giving several guided walks around the castle site in groups of 15 to 20 visitors.
September also saw our first celebrity endorsement, with famed historical author Alison Weir delivering a captivating and well-attended talk for FONC about the life of Eleanor of Aquitaine.
Our 3D reconstruction of the castle was augmented in October with not only all-new graphics, but also an audio guide, which was previewed at the Heritage Open Days and has been seen by over 500 people since publication on youtube.
Also in October, 12 FONC members were invited to attend the exploratory trench on the site of the castle, witnessing significant stonework unearthed in the first dig on the site for over 50 years.
In November, two members of WNDC attended one of our open meetings, giving FONC an overview of their plans and beginning what we hope will be an ongoing and mutually beneficial dialogue between the two groups.
December saw local artist Gerald Porter present a preliminary design for a Northampton Castle themed mural triptych, to be displayed in Chalk Lane Car Park.
We ended the year with a lovely meal at Sorrentinos restaurant, and we look forward to the next twelve months with eager anticipation. If you have talents that could be useful for our group – anything from cake-making to 3D computer graphics – then why not come along to our next open meeting? Our homepage is kept up to date with the latest meeting details.