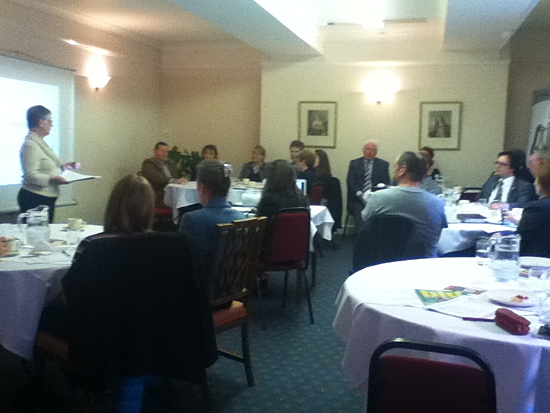 On Thursday 23rd May Dr Marie Dickie OBE from The Friends of Northampton Castle joined the George Row Business Club to give a brief history of the castle and to speak about the opportunities which are now there for the heritage of our town to be celebrated.
Marie also spoke about the latest archaeological dig which is taking place at the station as part of the re-development of the station which has uncovered much more than they expected!
The talk was well attended, with thirty-five business and professional delegates assembled to hear Marie Dickie talk about Northampton Castle and the proposed Heritage Gateway. The audience also included Tim Upton-Smith, Northamptonshire Archaeology's supervisor on the train station dig, and he gave the audience an update on the most recent finds.
We are pleased to report that with the help of event organisers Dialect telecom, a raffle was organised and held raising over £70.00 for FONC funds.
FONC would like to thank Dialect telecom, the George Row Business Club, all the attendees to the talk, as well as the generous raffle prize donors: