A trench has been dug in the car park of Northampton Castle Station to evaluate what archaeology, if any, remained under the surface. This is the first archaeological dig on the castle site since 1965, and the first ever in this exact location! The dig was performed by the Northamptonshire Archaeology Unit. Do note that the information given on this page is very preliminary and a full report will be published with all the facts in due course.
Twelve members of FONC were taken around the trench, and we are excited to report that the trench has revealed evidence from almost every stage in the history of the castle!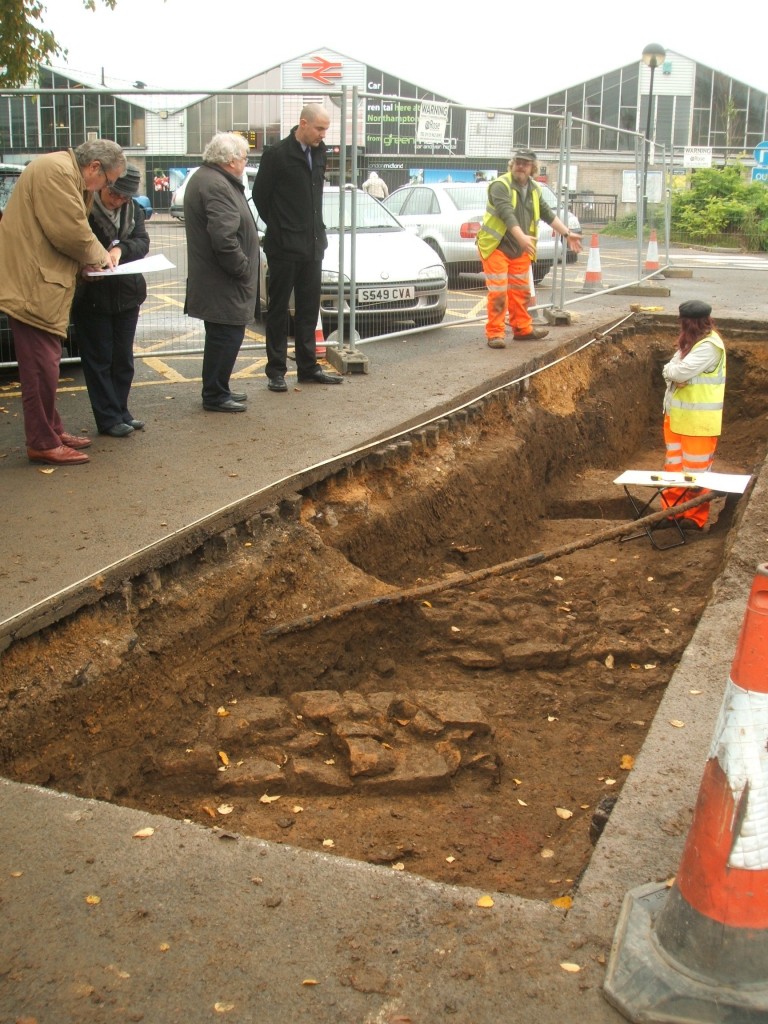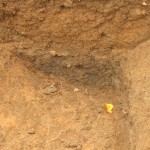 Towards the north end (closer to the station in the image above), we see evidence of burning, possibly late Saxon (shown left). Two small shards of pottery were recovered from here, which are being cleaned and will then be dated. Notice how the earth is still blackened where the fire was, probably a thousand years ago. Charcoal was also found here and can be dated.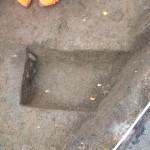 Further south from the burning, and closer to the surface in the stratigraphy, is a steep-sided feature filled with rough stonework – possibly related to a timber structure.
If you click through to the larger image, you can see old roots from a long-gone tree.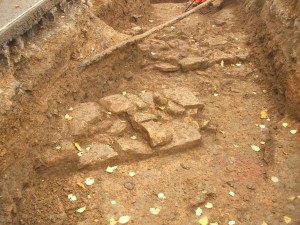 The really big news, of course, is the discovery of an intact wall from within the outer-bailey of the castle. In the foreground you can see the wall itself, and just behind that a pile of rubble from the wall, where it had been partially demolished and lain in ruins in the past.
Also in this image you can see a cable which ran to a now-demolished signal box, and the cobbles of the car park before it was tarmacked in the 1960s. So the trench really does cover a huge cross-section of the site's history, from what's possibly late saxon, around 1000AD to the 1960's. Not bad for an evaluation trench!
At FONC, we find this hugely encouraging news – it proves beyond any doubt that the castle still remains under the surface, it shows exactly how large scale the castle must have been to have substantial stone structures even in the outer bailey, and it's incredibly reassuring to know that the archaeology hasn't all been destroyed by successive development of the site.
We would encourage the new developers to keep that tradition going when the new station is built in 2013.